Physical Therapy For Carpal Tunnel Syndrome
Below you will find links to Doctor Reviewed Articles on Carpal Tunnel Syndrome with authoritative medical information. To begin, physical therapy is the first of these articles for your reading pleasure and information.
Master Occupational Therapist Recommends the Carpal Solution Treatment as the Main Stay physical therapy for treating CTS.
Mr. Alan Ward, MOT (Masters in Occupational Therapy) runs a number of clinics around Southern Utah. He has made the Carpal Solution Nighttime Stretching Treatment the main stay of his physical therapy program for treating cases of Carpal Tunnel Syndrome. He states, "Since the Carpal Solution is less invasive than more traditional treatments and since it works for most people and is more convenient to use – I have made it the first choice of treatment for all my patients that experience Carpal Tunnel Syndrome."
"It is easy to embrace an effective less invasive treatment, because it means better outcomes at lower costs, with less risks and less downtime." In this Video Mr. Ward talks about Carpal Tunnel Syndrome Symptoms, appropriate diagnosis, and best in class treatment options to manage this chronic condition of the hand and wrist.
"After 15 years of experience treating Carpal Tunnel Syndrome and trying to help patients recover after surgery, I have embraced a much better way to treat Carpal Tunnel Syndrome and allow patients to avoid the risks, downtime and long rehab periods with Carpal Tunnel Surgery."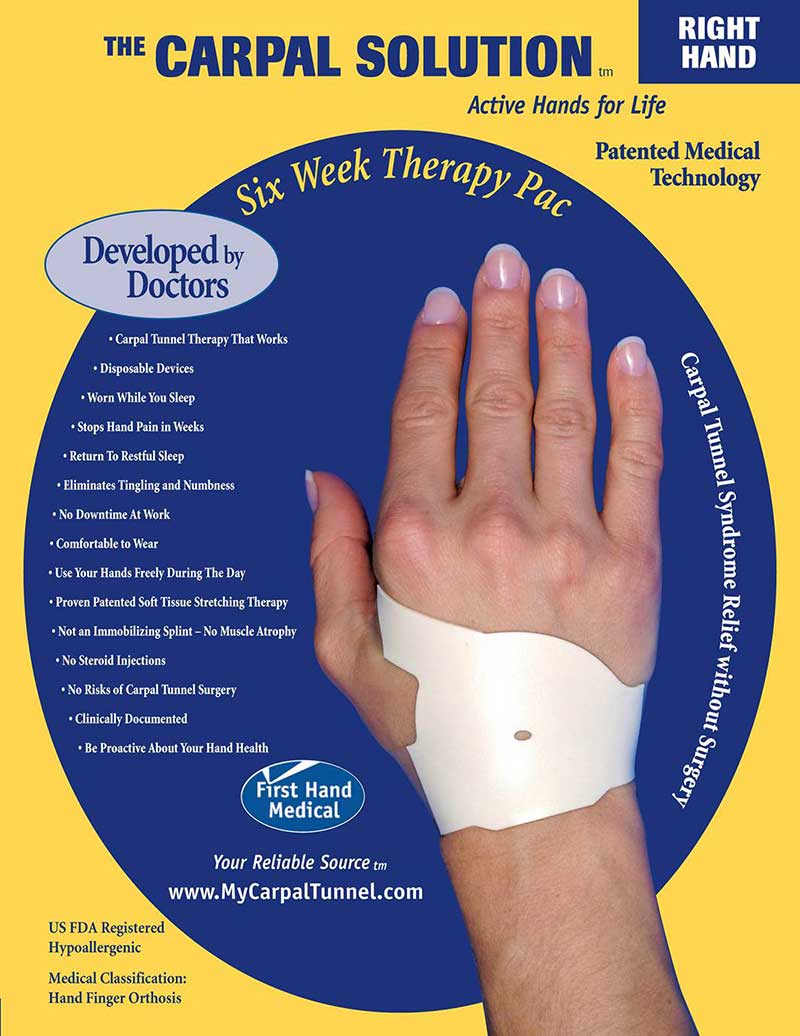 The hand is gently massaged throughout the night, reshaping the soft connective tissue in and around the carpal tunnel. Over the course of a six-week protocol, the Carpal Solution achieves remarkable results. Most sufferers see relief of their worst symptoms within the first week or two and complete remission within the Six Week Protocol using Carpal Solution Therapy. The key to the speed or recovery with the Carpal Solution physical therapy is that your hand is routinely exposed to just the right amount of stretching for one third of the day.
While most therapeutic sessions with a specialists only last for about a half hour a couple of times per week. The convenience of the Carpal Solution allows people to use it with the regularity needed to have significant impact. The Carpal Solution provides 224 hours of gentle stretching therapy over the 6 week Doctors' protocol. There is no other way to achieve this type of consistent concentrated physical therapy for Carpal Tunnel except by using the Carpal Solution Treatment.
Read articles written by Doctors on hand pain and Carpal Tunnel Syndrome.
The Carpal Solution is the Next Best Thing to a Carpal Tunnel Cure.
The symptoms go away for a year or two and when they come back, you have a reliable all natural treatment you can depend on to manage this often frustrating condition. The key is learning how to manage the symptoms with the least interruption to your busy life.
The Carpal Solution offers relief from wrist pain, hand numbness and finger tingling of CTS in days. It is different from other over-the-counter Carpal Tunnel treatments. It is not a rigid immobilizing wrist splint.
Worn during sleep, the Carpal Solution gently stretches and retrains soft tissue in and around the Carpal Tunnel and eliminates hand pain, numbness and sleep interruption Naturally, by relieving the pressure on the Median Nerve which causes CTS.
It allows people to get back to their active life styles with No Downtime, No Risks and No Complications.
Join over 81,000 people in over 30 countries who have used a a doctor developed, convenient physical therapy at home to treat their Carpal Tunnel Syndrome.
The Carpal Solution is Self-Applied Before Retiring to Bed in Three Easy Steps
Watch Videos of Real People telling their experiences
of successfully treating Carpal Tunnel without resorting to the risks, potential complications and long rehabilitation periods associated with Carpal Tunnel Surgery.