Why a Six Week Carpal Tunnel Treatment Protocol?
Soft tissue injuries, like sprains and Carpal Tunnel Syndrome require six weeks to heal in most cases. The Carpal Solution Treatment has been carefully developed by leading Doctors and Medical Device designers using the most advanced materials and expert medical knowledge to achieve the optimum natural stretching system for healing Carpal Tunnel Syndrome.
Doctors developed the Six Week Treatment Protocol through painstaking work with individual patients.   It turns out most people only need six weeks of gentle stretching at night to put their Carpal Tunnel Syndrome Symptoms in complete remission.   Once it is in remission it usually stays in remission for 2 to 7 years.
So, what is the Six Week Treatment Protocol? You simply place the Carpal Solution Stretch Tape Device on your hand at night before you retire for bed and set the tension following the instructions below. It takes about a minute to put on the first time and only about 20 seconds after that.
There are three simple steps to placing the Carpal Solution on your hand at night. Even though it is simple, it is important you read the instructions before you attempt to put it on.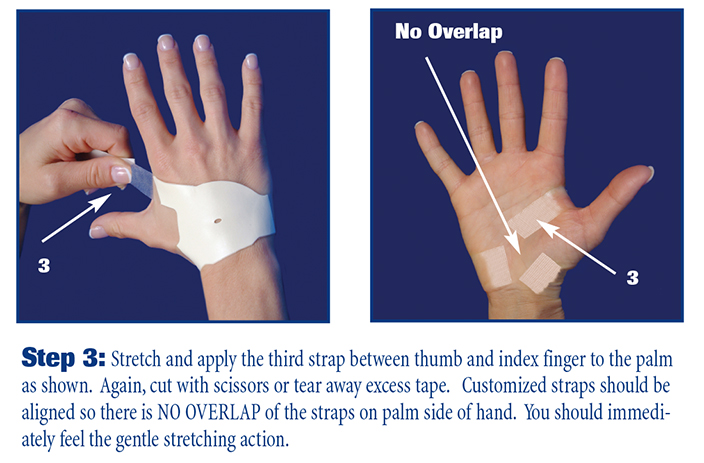 You then wear the Carpal Solution every night for two weeks and then every other night for four weeks.
"So, why only wear it for 28 nights over a six week treatment period which would seem to be 42 nights?"
We get that question a lot.
The answer is: 28 Nights of Treatment over 6 Weeks Is Exactly What Most People Need!
Doctors carefully developed the protocol that matches the needs of most people. It keeps the costs down to provide only the amount of product that fits the sweet spot of optimized treatment for most patients.
There are a few people who have what we doctors call persistent symptoms of CTS (about 7 -10% of the overall CTS population). These people often find it takes more than three weeks to start seeing improvement and once they start getting better, they find themselves about 40 to 70% better at the end of Six Weeks.
These patients actually need to continue the treatment for about 10 – 12 weeks with the Carpal Solution Stretch Taping Devices to put their symptoms in complete remission. Carpal Tunnel Syndrome is cyclical, so once it is under control, the symptoms usually go away for years.
The good news is that even individuals with the most persistent symptoms can know that the Carpal Solution Treatment is working after they complete the Six Week Protocol .
It is important to keep in mind that if you begin to feel any improvement, you can take confidence knowing that the Carpal Solution Treatment is working and you will get completely better if you are more persistent than the syndrome.
Imagine … you can access this remarkable medical technology and get better through your body's natural healing in the comfort and convenience of your home during sleep. What could be more convenient than that for treating a chronic hand/wrist condition?
"After just four days of wearing the Carpal Solution, 80% of my symptoms were gone. It was the answer to my prayers!"
"I recommend it to anyone with CTS, it is the only treatment that works consistently."
"Any one with Carpal Tunnel Syndrome should try the Carpal Solution first ! The Carpal Solution worked for me! "
The Carpal Solution Six Week Treatment Package comes with 28 disposable stretch taping devices. Each one is customized to fit your size and shape of hand when you put it on at night following the simple three step directions.
THE CARPAL SOLUTION IS THE SMART OPTION!
Doctors and Medical Device Experts developed the Carpal Solution Stretch Taping Devices working with patients to optimize a treatment system that works for over 97% of people with Carpal Tunnel Syndrome. It will likely work for you too!
The Carpal Solution Six Week Package arrives in less than a week. It allows you to take advantage of the best therapy possible in the convenience of your home.
We offer a 30-Day money back guarantee
Our 100% money back guarantee lets you try out the Six Week Treatment Protocol confidently. We know you'll love the carpal solution, but if you don't, we will refund your money.
Surgeons, Doctors, Therapists, Chiropractors and Neurologists all over the world recommend the Carpal Solution to their patients as the best first line treatment for Carpal Tunnel Syndrome.
It has been used by over 60,000 people to avoid the risks, downtime and complications of a surgical procedure. The Carpal Solution works for 97% of people with CTS. It will likely work for you too!
Watch real people telling their experience with The Carpal Solution
Diane is a professional musician. Listen to hear talk about how The Carpal Solution helped her continue her musical career.
Randy Merrell is a famous hiking boot maker. Learn how he used The Carpal Solution to treat his own carpal tunnel syndrome.