Effective Carpal Tunnel Treatment – 97% Success
Medical Experts Give Top 16 Reasons to Choose Natural Healing
Article Authored by: Doctor Joseph E. Scherger, MD, MPH – Clinical Professor and Expert in Preventive Medicine and Family Medicine at the University of California San Diego School of Medicine
Carpal Tunnel Syndrome affects all people differently. Some people have devastating hand pain and wrist pain and others have annoying hand numbness and loss of sensation in their fingers. The symptoms can vary widely when the Median Nerve is under pressure. No matter how Carpal Tunnel is affecting you, it is crucial that you get the facts about Carpal Tunnel Treatment before you take action.
You can avoid the pitfalls and common mistakes people make when trying to treat their frustrating Carpal Tunnel condition. Because Carpal Tunnel Syndrome usually comes back after any treatment protocol, including Carpal Tunnel Surgery, there is no permanent fix for this infirmity. For this reason it is important to treat this condition in a way that can be readily repeated without downtime, restrictive splints, risks, long rehabilitation periods or complications from scar tissue or the side effects of steroid therapy.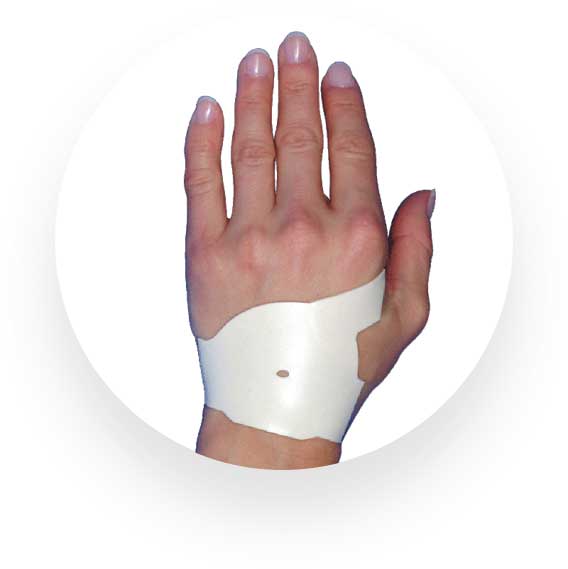 It turns out that a natural stretching therapy is the best way to treat Carpal Tunnel Syndrome for 97% of people and the best way to achieve the stretching needed is using Carpal Solution Therapy as your Carpal Tunnel Treatment.
Carpal Solution Therapy was developed by a Doctor working with his wife and patients and is patented medical technology. Below you will find a bullet-point summary of the Carpal Solution Treatment Protocol to help you quickly get the facts you need to make a sound decision and move forward with your busy life.
The Top 16 Reasons To Choose The Carpal Solution
01

Natural Proactive Soft-Tissue Stretching and Reshaping Therapy – Patented and Gentle

02

Stops Hand Pain and Numbness in a Week or Two and Full Remission in Six Week Protocol

03

Most people see Relief from the Worst Symptoms in Days

04

Eliminates Routine Sleep Disruption Due to Hand Numbness and Pain

05

Worn While You Sleep - There Is No Disruption to Your Active Life

06

Comfortable - Not A Restrictive Wrist Splint or Rigid Hand Brace

07

Proactive Therapy Prevents Lost Time at Work due to Hand Dysfunction

08

Not An Immobilizing Brace or Rigid Night Splint - This is different!

09

Take Control of Carpal Tunnel Syndrome Pain and Symptoms

10

Use Your Hands Freely During the Day - No Embarrassing or Uncomfortable Splints

11

Proactive Treatment Worn While You Sleep

12

Developed by a Physician, The Carpal Solution is Patented Medical Technology

13

FDA Registered and Clinically Documented

14

Return to Restful Sleep and Active Days with No Grogginess

15

No Downtime Due to Numb, Aching Hands

16

No Complications from high risk CTS surgery, steroid injections or from long-term use of oral pain medications
Hands are a defining characteristic of the human condition. How we work, how we serve others, what we do for recreation and hobbies are all dependent on active use of our hands. Be proactive about your health and well being! Take control you your Carpal Tunnel Symptoms today. —Active Hands For Life —Imagine the possibilities! Armed with the facts on Carpal Tunnel Treatment you can now move forward with confidence and without worry.
Neurologists call the Carpal Solution the best first line of defense for Carpal Tunnel Syndrome. Most people call it a Carpal Tunnel Cure. The fact is you can get consistent relief without resorting to the dangers of pain medication nor the risks and potential complications of Carpal Tunnel Surgery. The Carpal Solution Carpal Tunnel Treatment works for 97% of people to relieve the pressure on the Median Nerve and eliminate the symptoms of Carpal Tunnel Syndrome. A syndrome is defined in medical text books as a collection of symptoms. So, once the symptoms are gone, the syndrome is eliminated too. No need to worry about CTS any more.
Many people wonder: How to treat Carpal Tunnel Syndrome (CTS)? or Can it be treated without Surgery? or What is the best first approach for treatment of CTS? Go with the Neurologists, the Carpal Solution is your best first line of defense. It relies on natural stretching therapy to restore flexibility to the soft tissue around the narrow passage. It also improves circulation to the damaged tissue and allows your body to go back to its normal healing process. There is no need to wait and wonder any more about Carpal Tunnel, Now you have the facts you need to make a sound decision for proactive hand health. The Carpal Solution is your best answer for CTS.
The Carpal Solution is Clinically Documented, Patented Medical Technology developed by a Doctor working with thousands of patients. The Carpal Solution has been used by over 81,000 people and gets a 97% success rate. It also has a money back guarantee and is reimbursed by health insurance. Don't wait get started today!
What is the Black Patch on Keri Walsh's Shoulder during the 2008 Summer Olympic Games Beach Volleyball Competition in Beijing, China? And what does it have to do with treating Carpal Tunnel. Learn more about how Keri Walsh used the same medical technique employed by the Carpal Solution by clicking on the highlighted "Black Patch" wording above.
The Carpal Solution alternative to surgery is Self-Applied Before Retiring to Bed in Three Easy Steps
The Carpal Solution Testimonials
"I am a Human Resources Manager for a large organization and am a Surfer. About a year ago I started to have issues in my hands when responding to my many emails. I found myself waking up during the night with my hands tingling and numb fingers. I also experienced neck and forearm pain. In surfing I depend on my hands to carry my long-board as well as pop-up on the waves. My Doctor prescribed Velcro wrist guards and directed me to sleep with them on my hands and rest my hands as much as I could for the foreseeable future. I was devastated, since I saw no end to the problem. The prospects worried me. I wondered, "How much of my life will I have to give up?"My husband and I called the wrist guards "My Monster Hands" and while they did relieve some of the tingly feeling at night, they did not relieve the pain I was experiencing and I always awoke with some tingling in my hands."
"I found the Carpal Solution accidentally about six months ago while researching on the web. I saved the site on my favorites for months without ordering the product, since it seemed too good to be true. One day while in desperate pain —my arms were aching just from driving my car — I ordered the Carpal Solution on the web and used it for two weeks straight. The first night I went to bed with the Carpal Solution I was amazed. I slept through the night undisturbed and awoke in the morning without any tingling hands. The Carpal Solution also ended my pain. It is so comfortable to wear."
"This product has changed my life dramatically. I continue to share my experience with any one I see wearing "monster hands". 'You don't need those things', I tell them. 'Thanks to the Carpal Solution I am free of that intense pain and the uncomfortable splints and you can be too.' It has allowed me to work and play again to the fullest extent possible. I have my life back! No worries! No Pain! The Carpal Solution works!"
Carolina, Human Resources Manager / Surfer, California. Watch a Video Review of the Carpal Solution by Ann, a Certified Massage Therapist and Avid Tennis Player .
"I have carpal tunnel problems in both wrists. After trying The Carpal Solution for one week, I am sleeping through the night for the first time in years. Please send the full Carpal Solution Six Week Therapy Pac for both Left and Right hands —2 day delivery. Thank You!"
Ray – Maryland
Click on the arrow on the picture below to watch video. Ann found she could not train for a National Senior's Tennis Tournament she was planning to participate in at Stanford University due to Carpal Tunnel Syndrome. She was losing her grip strength and her wrist were hurting.
She talks about symptoms and treatments for Carpal Tunnel Syndrome and how she was able to regain her grip strength and continue training for the tournament.
Ann was able to compete in the National Tennis Invitational at Stanford University where she won the Silver Metal for second place.
Ann also was able to continue her career as a massage therapist and talks about how the Carpal Solution works a lot like Kinesio athletic tape used by athletes such as Keri Walsh. The Carpal Solution gently, but consistently stretches the soft tissue of the hand at night during sleep just like a long stretching massage. Click on the arrow to learn from a Massage Expert how to relieve Carpal Tunnel Syndrome naturally without invasive high risk procedures like surgery or steroid injections. Patient Success is over 97%!
For Natural Carpal Tunnel Relief – Call Toll-Free: (1) 800-798-5210 or : (1) 801-930-9240
View More Videos on Carpal Tunnel Relief
Why is an Alternative Medical Treatment Needed For Carpal Tunnel Syndrome?
The Carpal Solution is a Carpal Tunnel Therapy that is US FDA Registered, used by over 81,000 people in over 30 countries and continues to get a 97% success rate among patients.
Want to know more? Read additional articles written by Doctors on hand pain and Carpal Tunnel Syndrome.
Call Toll Free:
1-800-798-5210

to speak to a knowledgeable representative now.