How to Apply The Carpal Solution Treatment
The Carpal Solution is easy to apply at night before you retire to bed. It is comfortable to wear too. It will not interrupt your sleep nor will it annoy your sleeping partner, like those rigid braces or wrist splints. Most importantly, it puts your worst Carpal Tunnel Symptoms in remission within two to three weeks and puts your Carpal Tunnel Syndrome (CTS) in complete remission within the Six Week Protocol for the majority of people. Then CTS stays in remission for 2 to 7 years for most people.
Watch the video below to see a simple demonstration by, Anthony, a Computer Network Engineer , on how to apply the Carpal Solution in less than a minute before you go to bed at night. Anthony depends on the Carpal Solution to allow him to work 10 to 16 hours per day 6 – 7 days per week. If the Carpal Solution works for Anthony with his long work hours on the computer and remodeling his new home, it will likely work for you too.
The above is a short video to show you quickly how to apply the Carpal Solution Treatment. If you would like to watch Anthony's tell his complete experience on video, you can go to our Carpal Tunnel Video index and watch Anthony and many others tell how they treated Carpal Tunnel successfully without surgery and without steroid injections. The Carpal Solution therapy is a natural treatment for Carpal Tunnel Syndrome that was developed by leading Doctors working with patients. This treatment has been used by over 60,000 people to put this frustrating hand condition in remission. We continue to get one of the highest success rates in medicine at over 97%. The Carpal Solution has been used by Doctors, Dentists, Surgical Nurses, Musicians, Famous Custom Boot Makers and even Surgeons to control this persistent Carpal Tunnel condition. We invite you to take the Carpal Solution Challenge. There is no financial risk with a money back guarantee and the Carpal Solution Treatment is reimbursable by Health Insurance with a Doctor's Prescription for a "Hand Finger Orthosis". Since the Carpal Solution is a natural stretching treatment developed by Doctors, there is no health risk associated with trying this proven treatment system.
If you have been diagnosed with Carpal Tunnel by your family physician or a neurologist or a hand specialist, or a chiropractor or physical therapist, and would like to get reimbursed; simply call the clinician's office and remind the nurse or physician's assistant that you have been diagnosed with CTS by the Doctor and request that they send you a prescription for a: "Hand Finger Orthosis for Carpal Tunnel Syndrome". The prescription should specify the Right Hand or the Left Hand or simply state: "Bilateral", which is doctor speak for both hands.
The Healthcare Common Procedure Coding System (HCPCS) code assigned by the American Medical Association (AMA) for the Carpal Tunnel Solution treatment regimen is: L3923. Health Insurers will recognize this code immediately. It is found in the Healthcare Common Procedure Coding System Manual published by the AMA. All insurers in the USA use this HCPCS coding system. There is no reason to go on suffering with the hand pain, wrist pain, sleep interruption and numbness any longer. You can get relief from this syndrome at home during sleep in a Six Week Doctor's Protocol. Written Instructions with Pictures for applying the Carpal Solution also follow below for your convenience in reviewing the application steps from the video above on how to apply this remarkably simple and effective Carpal Tunnel Treatment.
If you have questions give our Consultants a call at 1-800-798-5210. The Carpal Tunnel Experts are available 14 hours per day from 9AM Eastern Time in the USA until 11 PM Eastern Time in the USA. We can help you.
Carpal Solution Treatment Written Application Instructions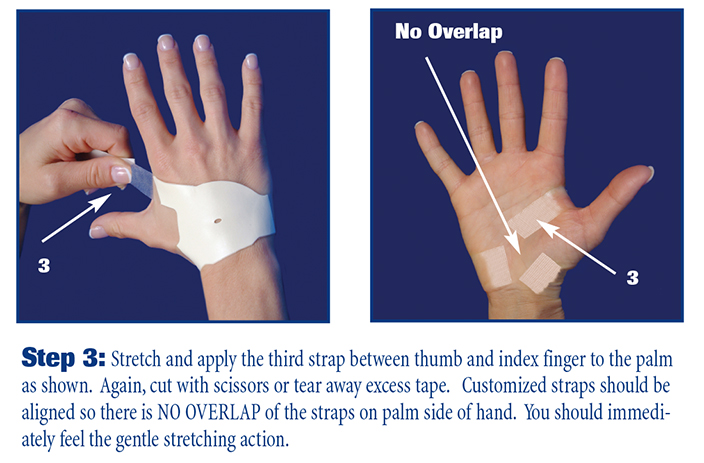 Doctors Developed the Perfect Carpal Tunnel Treatment for 97% of People suffering with this debilitating hand condition.
Put your Carpal Tunnel Symptoms in Complete Remission in Just Six Weeks with the Carpal Solution Treatment System.