Answers by Doctors at First Hand Medical
Surgery for Carpal Tunnel is considered a last resort for treating Carpal Tunnel Syndrome.
It is generally accepted in Medical Schools and by Medical Experts, that invasive treatments that bear multiple risks should be avoided, unless all clinically documented less invasive treatments guided by Doctors have been tried and failed.
It is a medical fact that some people actually get worse after Carpal Tunnel Surgery – About 7% to 10%.
Surgeons Claim a 90% success rate. While patients report a 50% to 60% success rate.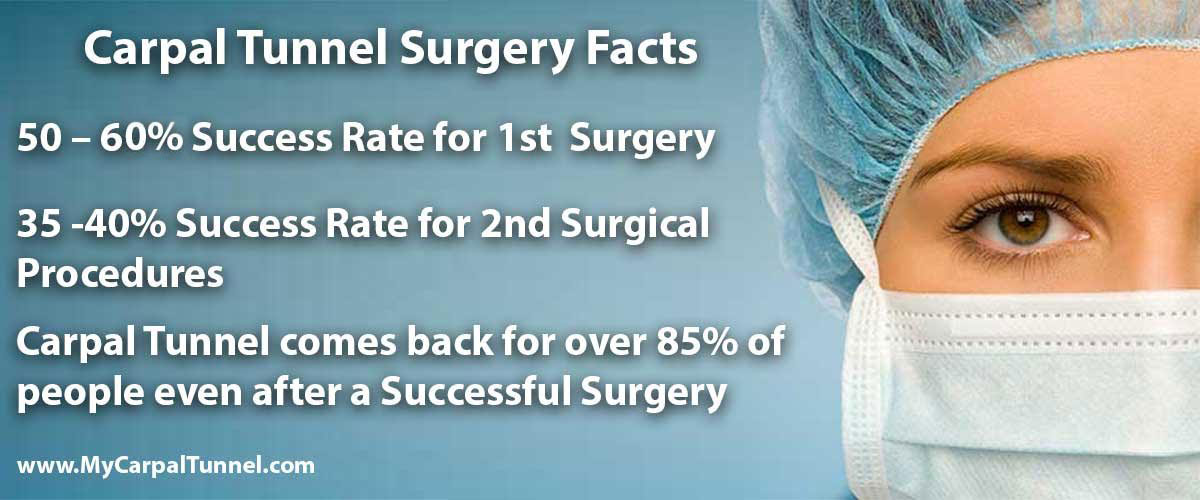 People naturally ask: "Why is there a difference in the perception of success with Carpal Tunnel Surgery?"
The difference is readily understood when you look at the criteria for determining success of the surgery.
For the Surgeon success is determined if any symptom improves post-surgery.
From the patient's point of view, if all the symptoms do not go away and stay away, the surgical procedure was not a success. As a patient, you probably will take the patient's point of view on Surgical Outcomes for Carpal Tunnel Surgery.
Also, Carpal Tunnel Syndrome almost always comes back even after a successful surgery. So, that means you will likely be facing a second surgical procedure even if the first goes well. Second surgeries have a 35% to 40% success rate based on patient surveys.
Do Not Have Surgery Performed On Both Hands At the Same Time.
If you do decide to go forward with surgery, definitely do not do both hands at the same time unless you have a close to fulltime caregiver that you have an intimate personal connection with and that you trust with personal hygiene and intimate daily care for several weeks. Life can be complicated without the use of either hand.
Using a hand that has been operated on for Carpal Tunnel Release Surgery before it has completely healed can result in serious potential complications and generation of scar tissue. The formation of scar tissue can actually make Carpal Tunnel worse after surgery than it was before the surgical procedure at the base of the hand. Soft tissue healing takes six weeks minimum and can take up to 8 weeks or even 12 weeks if there are complications with bacterial infection.
The temptation to use your hand for some essential task when a caregiver is not immediately available is too high for most people to resist. The probability that you will be put in a situation where you must use your hand for a task that puts too much force on the injured tissue before the healing is complete is high, even if you think you will have the full-time attention of a caregiver. This is why we strongly recommend that you do not have a surgical procedure for Carpal Tunnel Release performed on both hands at the same time.
Some people are excited about the idea that you can minimize downtime by having both hands done at the same time.
The timing savings and the benefits of a dual surgical procedure are not worth the potential downside risks and potential complications.
You might ask: "Why your surgeon recommends doing both hands at the same time?"
Surgeons Often Face Conflicts of Interest
It is difficult to think of any medical advantage to the patient in doing the surgical procedure on both hands other than saving downtime.
While most surgeons are quite altruistic, some are insensitive to the patient's plight post-carpal tunnel surgery.
From a Surgeons point of view, it saves time and increases revenue generated per operation by doing both hands at the same time. It seems more efficient to the Surgeon.
Generally, surgeons are altruistic and follow the Hippocratic Oath closely. Most surgeons endeavor to do the best for the patient despite potential conflicts of interest.
However, it is also true that a lot of patients never come back to have surgery on the second hand, once they know what they went through with surgery on the first hand.
So, the Surgeon can make sure that he has the opportunity to perform the procedure on both hands by doing them both at the same time. Again, advantage Surgeon – not patient.
Surgeons often have conflicts of interest where what is in the patient's best interest is not necessarily in the Surgeon's best interest. Again, we have found surgeons usually error on the side of what is in the patient's best interest when confronted with such situations.
However, most people have seen or heard of results where the surgeons best interest was served ahead of the patient's best interest in delivering a medical procedure. It is hard for all human beings to manage these types of conflicts of interest. Surgeons as good and highly trained as they are, still sometimes succumb to their own human self-interest in such situations and put their interest mistakenly ahead of the patient's wellbeing.
There is a Natural Treatment for Carpal Tunnel Syndrome Developed by Doctors that works for 97% of People.
Doctors have developed a natural stretching treatment for Carpal Tunnel that works for 97% of people in the comfort and convenience of home. It is called the Carpal Solution Nighttime Stretching Treatment and it requires no downtime and involves none of the risks associated with Carpal Tunnel Surgery.
You can also treat both hands at the same time while you sleep.
The Carpal Solution Quick Facts:
It is an all-natural carpal tunnel treatment.
It is safe and has no downtime.
It is clinically documented to work.
It is Convenient, with treatment during sleep.
It works for 97% of people with Carpal Tunnel.
The Carpal Solution was developed by a Doctor working with patients.
It is patented medical technology.
It has been registered with the FDA.
It has been used by over 100,000 people.
When it comes back after 2 to 7 years, you simply repeat the nighttime treatment.
The Carpal Solution has been used by over 100,000 people in over 30 countries and continues to get a 97% success rate among patients.
Want to know more? Read additional articles written by Doctors on hand pain and Carpal Tunnel Syndrome.
Call Toll Free:
1-800-798-5210

to speak to a knowledgeable representative now.