Hand Pain with Cyber Monday & Black Friday Shopping Frenzy
A Guide on How to Keep your hands healthy through all the Shopping, Decorating, Cooking, Wrapping, Cleaning and Partying for the Holidays.
We often make jokes about people getting injured on Black Friday. There are even commercials emphasizing the battle that takes place over getting the best bargains that are limited in number. However, the reality is, this time of year with Black Friday and cyber Monday there are a lot of repetitive stress injuries to peoples' hands and wrist from all kinds of activities.
Carpal Tunnel Syndrome flare-ups are common this time of year.
People are so busy wrapping gifts, decorating homes, making crafts, boxing up and sending packages, baking cookies and other treats, clicking the computer mouse and the computer keyboard over and over again searching for the best deal for the ideal gift from the best supplier, ect. People are so eager to make the holidays memorable for the people they love, that often they over work their hands and wrists.
Interestingly, with a nerve condition like Carpal Tunnel, mental stress from the financial strain and trying to get so much done in so little time can also contribute to Carpal Tunnel Syndrome Symptoms. A lot of people don't recognize this.
Another contributing factor is the cold weather in many parts of the world during the busy holiday season.
So, what can be done to keep going during the busy holidays?
While we can't do much to minimize the Black Friday Shopping Frenzy craziness, we can help you with the hand pain and wrist pain post Black Friday and Cyber Monday.
Here are some tips: first stay calm, pace yourself, keep your sense of humor, know your limits, get organized, delegate to others and keep your hands warm and avoid the crazy people. Stretching your hands regularly will also help keep your hands working for you, but who can afford downtime for stretching exercises several times per day? There is a Solution that will help most people.
Did it feel like this lady was behind you in the Black Friday Shopping Lines?
Keep perspective and exercise your sense of humor. Nerve pain is aggravated by frustration and mental anguish. It is best to take a couple of breaths and stay calm despite the panic around you.
A good laugh helps to relieve nerve tension and stress, so we hope some of the graphics above help with the humor needed. Go see a Rom Com (Romantic Comedy), watch a feel good Hallmark Movie or watch the movie: Christmas Story, whatever works for you this time of year. All these things help to gain perspective and relieve some stress.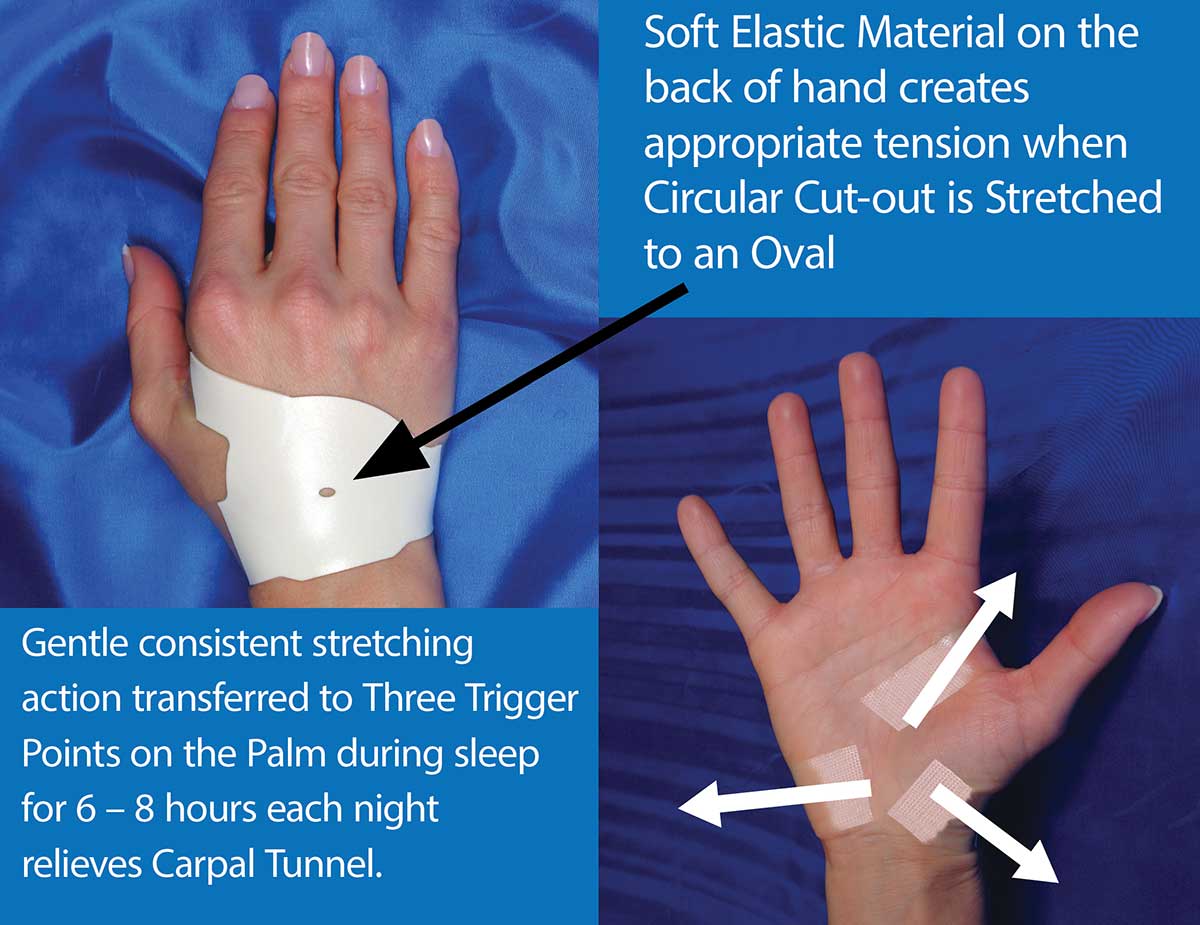 It is called the Carpal Solution Treatment and comes with 28 disposable stretch taping devices. You simply put one of these devices on your hand each night for the first two weeks and set the tension. These stretching devices provide gentle consistent stretches throughout the night during sleep. You put one on every other night for the last four weeks.
Over the course of the Six Weeks Protocol developed by Doctors, you get over 220 hours of gentle consistent stretching of the soft tissue around the Carpal Tunnel. There is no other way to achieve this effect.
The Carpal Solution Treatment is a break-through in treating Carpal Tunnel Syndrome. It allows regular people to access the best therapy developed by Doctors in the comfort and convenience of home.
The Carpal Solution Treatment is clinically documented, registered and monitored by the FDA, and reimbursed by health insurance. You can also use your Health Savings Account with a Doctor's prescription for a:
"Hand Finger Orthosis for Carpal Tunnel Syndrome"
Neurologists say the Carpal Solution is the best first line treatment for Carpal Tunnel Syndrome, because it works for over 97% of people, and it is convenient and easy to use with minimal expense and none of the risks associated with all other CTS Treatments. CTS comes back even after surgery, so it is important to choose a low risk treatment option that is convenient like the Carpal Solution.
Most patients simply call the Carpal Solution, "My Carpal Tunnel Cure"
So, be proactive about your hand health this holiday season, relax and enjoy the wonders of this time and get the Carpal Solution to keep your hands going strong. Be prepared to protect your hands before they slow you down. You'll be glad you did.
The Carpal Solution comes with a 30 Day Money Back Guarantee and is reimbursed by health insurance. There is no reason not to get started today with a treatment carefully developed by Doctors to treat Carpal Tunnel Syndrome in the most effective way possible.
There is no reason to suffer with hand pain or wrist pain any more.
You can treat yourself at home under the direction of the Doctors of First Hand Medical with the Carpal Solution Treatment for CTS.
This natural stretching therapy works for 97% of people and is reimbursed by Health Insurance.
Here is what Doctors and Medical Professionals Say about treating Carpal Tunnel Syndrome:
Whether your CTS is caused by stress, keyboarding or using the mouse on Cyber Monday or battling the crowds on Black Friday, or the totality of Wrapping presents, decorating, baking goodies, writing Christmas cards or whatever you do during this busy holiday period – you can trust the Carpal Solution Stretching Treatment to keep going strong during the day and sleeping well during the night. Don't go on suffering needlessly. The Carpal Solution Treatment is guaranteed by First Hand Medical with a 30 day Satisfaction Money Back Guarantee. We can help You!
Learn More about Carpal Tunnel Treatment From Doctors' Articles
Call Toll Free:
1-800-798-5210

to speak to a knowledgeable representative now.