Pregnant Woman Gets Sleep – Relieves Dull Ache of Carpal Tunnel
"As a pregnant mother to be early in my third trimester I began getting tingling hands that woke me up at night on a regular basis. I thought I was just sleeping on my hands in an awkward position, but my OB said it was probably Carpal Tunnel Syndrome and recommended some night splints, but said to stay away from pain meds for obvious reasons. She explained that the conventional treatment for non-pregnant women was to have corticosteroid injections for temporary relief and then get surgery if the symptoms persisted. Those were not viable options for a mother to be.
I found the rigid night hand splints to be very uncomfortable and interrupted sleep about as much as my tingling, numb hands and they did not help with the numbness much. The pain progressed and just when I felt the most urgent need and surge of energy to prepare for my new baby, my hand pain began to worsen during the day.
The dull ache made me feel like I did not want to use my hands to do anything. My sense of urgency to get ready for my newborn kept me going, but may have made the condition worse. The pain began affecting my shoulders and arms too.
My husband found the Carpal Solution on the net and bought it for me to try. Within the first three nights I noticed a significant difference. The comfortable soft brace allowed me to get a good night's sleep for the first time in over a month. I felt so much better during the day after sleeping well. The dull ache was gone after four days and I felt excited again to get ready for the big event.
This soft hand wrist brace is perfect for a pregnant woman. It is comfortable, relieves the tingling and allows sleep and relieves the dull hand aching without the uncomfortable rigid splints, oral pain medication, steroid injections or surgery.
Carpal Solution Therapy Worked for me and allowed me to get ready for my baby. After delivery I stopped using it and the symptoms came back. I use the Carpal Solution about two nights a week and the symptoms stay in check and allow me to do all the things for my new born that I need to do."
Sherri B., Busy New Mother – Found The Carpal Tunnel Solution – Arlington Heights, Illinois.
Did you know?: The fluid retention that is so common during pregnancy, can compress the median nerve that runs through the Carpal Tunnel. This is why Carpal Tunnel Syndrome is common during pregnancy. The Carpal Solution is a fast and natural remedy to this problem.
The Carpal Solution Quick Facts
30 Day Money Back Guarantee

The Only Affordable Solution
Neurologists are experts on the central nervous system. These neurology experts say that the Carpal Solution is the best first line of defense for Carpal Tunnel Syndrome, but most patients just call it a Carpal Tunnel Cure.
The Carpal Solution works for 97% of people with Carpal Tunnel Symptoms. The Carpal Solution will likely work for you too!
It is the only treatment for Carpal Tunnel that comes with a Money Back Guarantee and it is reimbursed by health insurance.
Not only are there no risks of complications with the Carpal Solution Therapy, as you find with carpal tunnel release surgery, but also First Hand Medical has eliminated any financial risk of trying the Carpal Solution.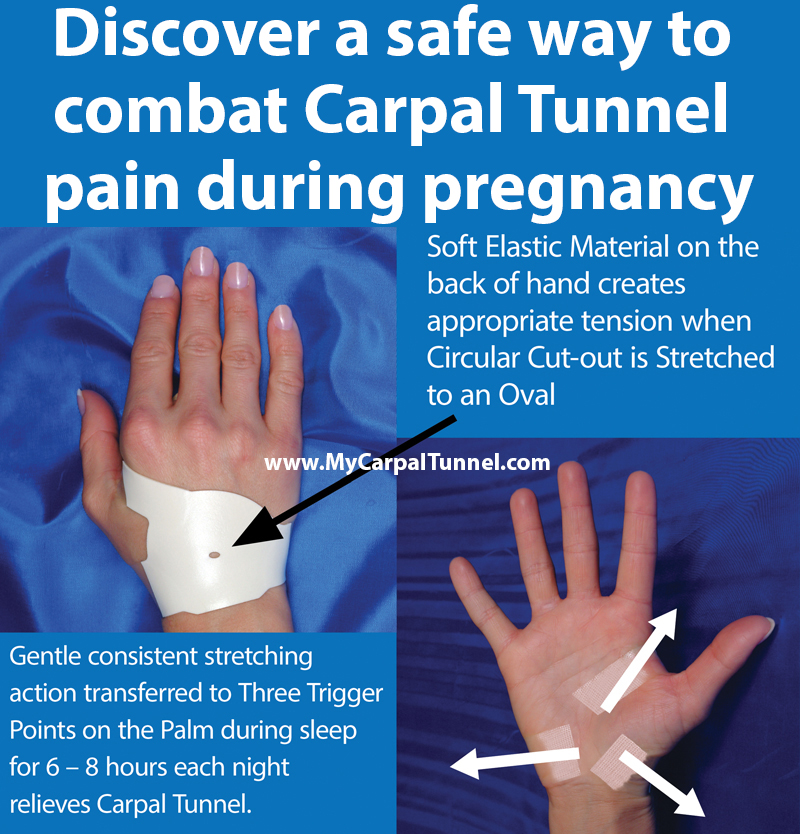 The Carpal Solution is Self-Applied Before Bed in Three Easy Steps
The Carpal Solution has been used by over 81,000 people in over 30 countries and continues to get a 97% success rate among patients.
Want to know more? Read additional articles written by Doctors on hand pain and Carpal Tunnel Syndrome.
Call Toll Free:
1-800-798-5210

to speak to a knowledgeable representative now.