Electrician Seeks Alternative Treatment to Carpal Tunnel Surgery – Milwaukee, Wisconsin
Few professions use their hands more intensely than electricians. All the twisting and turning of wires in tight places, drilling holes and screwing in screws with vibrating tools over and over again day after day puts intense pressure on their fingers, hands and wrists.
When working around high voltage it is important to be alert and making sound decisions. Unfortunately those suffering from Carpal Tunnel often miss several hours of sleep each night and are often groggy from numb achy hands disturbing sleep.
Electrician Tells His Carpal Tunnel Journey:
I have been an electrician for 15 years. I make a good living for my family, but I depend on my hands to be able to work 8 to 10 hour days.
I do a lot of contract work, so when the projects starts there are tight timelines and commitments for getting the electrical part done on time. Often, I get a bonus for completing the work on time.
Six months ago, I started losing feeling in my fingertips. I wondered what was happening. A friend said it might be the sign of a heart issue. I went to the Doctor and he said it sounded like Carpal Tunnel. He gave me a wrist splint and told me to wear it as much as I could.
At first it helped quite a bit, but then after a month or six weeks, my Carpal Tunnel Symptoms got worse. It was too restrictive to wear at work. I started dropping things and could not work as fast as normal. My wrist started aching and I started waking up at night with numb achy hands and wrists.
I went back to the Doctor and he referred me to a Hand Surgeon. Well, I knew I could not afford the downtime for surgery, we were really busy at work. Also, I have known some people that had surgery and they were not that happy with it. For some of them some of the symptoms went away after surgery, but not all. For others, it came back after a few years. I could not afford the downtime for a partial fix or just to face a repeat surgery after just a few years.
So, I went online to try to find an alternative treatment. I saw a lot of stuff, but most of it was kind of hokey. Then, I saw the Carpal Solution Treatment was developed by Doctors and was documented with a medical study. It claimed a 97% success rate and I liked the doctors' articles and the videos of people telling their journey with Carpal Tunnel. I also liked that I could wear the stretching bands at night while I slept and keep working during the day – I can't give up my work.
I ordered the Carpal Solution Six Week Pac and got started.
Within 10 days, I was sleeping through the night. My grip strength seemed to be getting stronger. I could work faster at work. Within two of three weeks most of my wrist pain was gone. I knew I had found My Solution to Carpal Tunnel. I was so relieved, so was my wife.
I was a bit skeptical when I ordered the Carpal Solution, but my wife gave me some encouragement. Now after completing the Six Week packages, I have no symptoms of Carpal Tunnel. The Carpal Solution works! I would heartily recommend the Carpal Solution Treatment to everyone! There is no need to go on suffering through pain and sleep loss. Looking back, I would compare Carpal Tunnel to "Water Torture" – With the sleep loss and constant pain and the worry. It is grueling.
The Carpal Solution is so simple and inexpensive. There is no downtime. I think it is one of the best medical products I have purchased.
I am so glad that My Carpal Tunnel Journey is behind me now.
Delbert
Electrician
Milwaukee, Wisconsin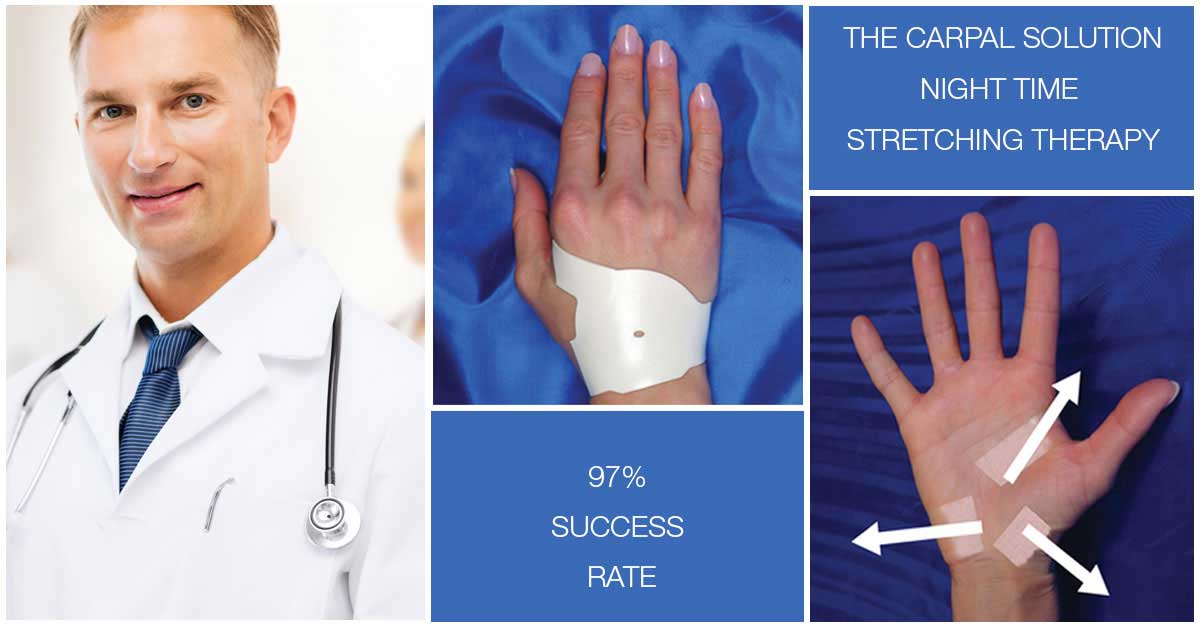 Doctors developed the Carpal Solution Treatment working with Patients.
The Carpal Solution is the best alternative treatment to Carpal Tunnel Surgery.
It works for 97% of people.
Most people get relief of their worst symptoms within three weeks and complete remission within six weeks.
All without submitting themselves to the risks, complications and downtime of Carpal Tunnel Surgery.
Want to know more? Read additional articles written by Doctors on hand pain and Carpal Tunnel Syndrome.
Call Toll Free:
1-800-798-5210

to speak to a knowledgeable representative now.