Canada – Carpal Tunnel Elective Surgery – Relief Without The Wait
Canadians no longer have to wait for Carpal Tunnel Relief. There are many social benefits derived from Canada's Universal Health Care Insurance System, but waiting for Elective Carpal Tunnel Surgery when you need to work and carry on with your life and family responsibilities can be very frustrating for the individual who can not get a good night's sleep or can not use their hands at their work without pain and numbness. Even a week of waiting can be untenable.
Wait times in Canada for a patient suffering with CTS to see a hand specialist now exceed 16 weeks in some providences. Then the wait times between consultation with a specialist and Carpal Tunnel Treatment can take up to another 20 weeks. Six to Nine months of waiting for relief from Carpal Tunnel Syndrome is unacceptable for most busy people needing to get on with life and the suffering is just not necessary.
Fortunately, there is now a better option for Canadians wanting to get back to their normal life, sleep habits and activities and stop the hand pain and numbness of Carpal Tunnel. The Carpal Solution is a remarkable all natural treatment that enables the person suffering from Carpal Tunnel Syndrome to get relief in a week or so. Carpal Solution Therapy relieves wrist pain, hand numbness and finger tingling of Carpal Tunnel Syndrome in days for most people.
It is different from other over-the-counter Carpal Tunnel treatments. It is not a rigid immobilizing wrist brace, nor is it a common splint.
Worn during sleep, the Carpal Solution gently stretches and reshapes soft tissue in and around the Carpal Tunnel, increases flexibility and relieves pressure on the Median Nerve. The Carpal Solution eliminates hand pain, finger numbness and sleep interruption Naturally – usually in just a few days.
This all natural therapy allows people to get back to their active life styles quickly with No Downtime, No Risks and No Complications!
If you live in Canada or else where, there is no need to wait for Elective Carpal Tunnel Surgery while enduring severe disruption to your life, sleep and work.
With over a 97% success rate using the Carpal Solution, most people are able to avoid surgery and its risks altogether and quickly get their life back.
Watch a Video Interview with wellness expert, Dr. Michelle Robin
Dr. Robin is the Founder of Your Wellness Connection, a center for natural healing in Shawnee, Kansas.
Learn all you need to know about symptoms and treatment options for Carpal Tunnel Syndrome and you will watch and listen to patients talk about their success controlling CTS with Carpal Solution Therapy – Naturally.
Patient Success is over 97%!
Only $89.95 – we ship worldwide
To Order in USA or Canada Call Toll-Free :(1) 800-798-5210
or Call: 00 (1) 801-930-9240 from destinations outside the USA
The Carpal Solution is Self-Applied in Three Easy Steps
The Carpal Solution gently stretches simultaneously at three key points on the palm surrounding the carpal tunnel during sleep. Consistent gentle stretching action applied for 6 to 8 hours while the hand is relaxed, decompresses and reshapes the soft tissue around the carpal tunnel relieving pressure on the Median Nerve.
Carpal Solution Therapy combines this patented gentle soft tissue flexing and reshaping method during sleep with active use during the day.
This results in an ideal rhythmic therapy for rapid relief from Carpal Tunnel Syndrome symptoms with no muscle atrophy or down time. Your hand rehabilitates through normal use once pain is relieved.
This is a Carpal Tunnel Treatment that works for over 97% of those suffering with CTS symptoms.
The Carpal Solution is not just a wrist brace, it is a therapeutic solution and has been shown to enhance blood circulation to the hand and ease inflammation.
Dr. Morgan suggests that increased nutrient and oxygen rich blood circulation reinvigorates the hand naturally, disperses lymphatic fluid and helps contribute to rapid recovery and regeneration of injured tissue at the cellular level.
The Carpal Solution stretching bace is specially designed to have an elasticity which matches the same elasticity found in one's skin, muscles, cartilage and connective fascia tissue, allowing it to work in harmony with the body's natural ability to stretch and relieve unwanted pressure, disperse lymphatic fluids, eliminate subtle micro-swelling and allow improved circulation in and around the Carpal Tunnel.
Even after Carpal Tunnel Surgery the symptoms of CTS frequently return within a year or two and it can take up to a year of rehab to regain full use of your hands after surgery. The key is learning how to manage the symptoms with the least interruption to your busy life and no complications to your overall health nor impact on your earning power, your relationships nor your sleep.
For a repetitive stress induced condition like CTS, symptoms of the syndrome often return even after surgery within two to three years. Sometimes they return even quicker for people that use their hands intensively. It would be depressing to endure Nine Months of suffering waiting for Elective Carpal Tunnel Syndrome in Canada and a long rehabilitation, only to find out that your Carpal Tunnel Symptoms have returned. Enduring that process multiple times for the same condition would test anyone's resolve and patience with the health care system. Fortunately, there is a better way.
Percentage Of People Experiencing Carpal Tunnel Symptoms Even After Successful Surgery
Average Out-Of-Pocket Expenses For Carpal Tunnel Surgery
Cost Of Carpal Tunnel Surgery Without Insurance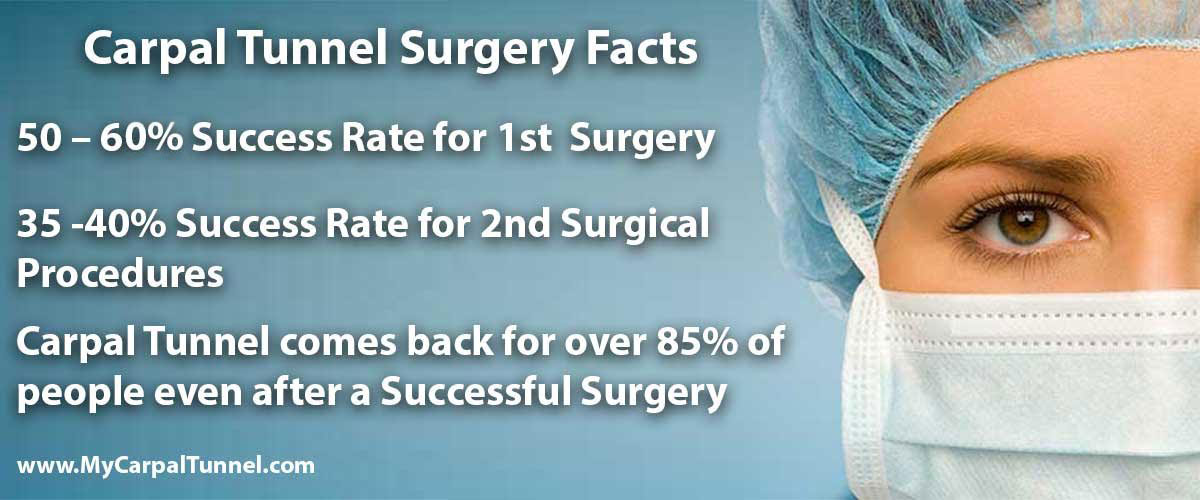 The Carpal Solution has been used by over 81,000 people in over 30 countries and continues to get a 97% success rate among patients.
Want to know more? Read additional articles written by Doctors on hand pain and Carpal Tunnel Syndrome.
Call Toll Free:
1-800-798-5210

to speak to a knowledgeable representative now.