Fixing Carpal Tunnel Syndrome – Relief Without Surgery
Most people that find themselves suffering with Carpal Tunnel Syndrome are taken by surprise and often worry about the downtime, risks, and expense and fear the potential complications associated with hand surgery. In fact, these instincts are appropriate, most medical experts and insurance providers suggest that wrist surgery be considered only as a last resort after all clinically documented conservative Carpal Tunnel Treatments are tried.
The good news is that Fixing Carpal Tunnel Without Surgery is a very real option for over 97% of people suffering with CTS. The Carpal Solution offers relief from the annoying hand numbness, wrist pain, tingling fingers, routine sleep interruption, and lost earnings naturally and without downtime, complications, or risks.
Read the Published Clinical Study on Carpal Solution Therapy
Learn More about all natural Carpal Tunnel Relief without surgery using Carpal Solution Therapy – Watch CTS sufferers tell their compelling stories and carpal tunnel testimonials. Listen to Dr. Robin, a wellness expert and founder of Your Wellness Connection, explain natural Carpal Tunnel Relief Therapy. View State-of-the-Art Thermal Imaging technology demonstrating the increase in circulation in the hand after just fifteen minutes wearing the Carpal Solution by
clicking on the arrow on the image below:
Call us toll-free at 1-800-798-5210 or call (1) 617-794-0503
View More Video and an Interview with Dr. Robin, a musculoskeletal specialist at Carpal Tunnel Treatment
The Carpal Solution offers relief from CTS wrist pain and hand tingling or hand numbness in days and remission of your symptoms over the Six Week Protocol. Carpal Solution Therapy is different from other over-the-counter CTS treatments. It is not a stiff restrictive wrist brace. Worn during sleep, the Carpal Solution gently stretches and reshapes soft tissue in and around the Carpal Tunnel and eliminates hand pain, numbness and sleep interruption. It allows people to get back to their active life styles conveniently without surgery – eliminating long rehabs and potential high risk complications such as infection, nerve damage, permanent loss of grip strength (which is common), wrist weakness and scarring.
The Carpal Solution alternative to surgery is Self-Applied Before Retiring to Bed in Three Easy Steps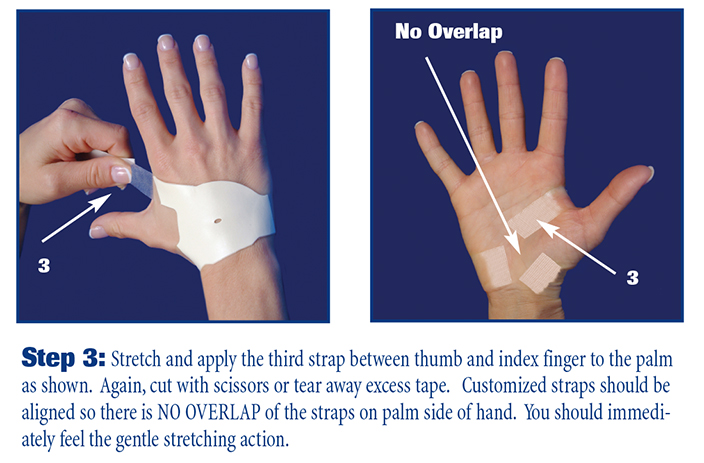 The Carpal Solution is a Better First Line of Defense for CTS. What people love about the Carpal Solution is that it is so simple and convenient. It allows them to control their Carpal Tunnel Symptoms conveniently and cost effectively relying on their body's natural healing process, in the comfort of their own home. The Carpal Solution gently stretches simultaneously at three key points on the palm surrounding the carpal tunnel during sleep. Consistent gentle pulling action applied for 6 to 8 hours while the hand is relaxed, gently stretches and reshapes the soft fascia tissue around the carpal tunnel relieving pressure on the Median Nerve.
There is an old adage that gentle pressure consistently applied is the key to solving most problems in life. This describes the power behind Carpal Solution Therapy. Over the Six Week Protocol The Carpal Solution puts Carpal Tunnel Syndrome into remission naturally and non-invasively – without the risky outcomes and long rehabs associated with surgery, the complications of oral pain medication or the downside of steroid injections or the risk of muscle atrophy so common with conventional rigid hand braces and restrictive splints.
Carpal Solution combines gentle soft tissue stretching and reshaping at night during sleep with active use during the day. This results in an ideal rhythmic therapy for rapid relief from Carpal Tunnel symptoms with no muscle atrophy or down time and no limitations from restrictive braces. The hand rehabilitates through normal use once pain is relieved and free movement is restored. It is well know among muscular skeletal specialists that muscle atrophy from rigid wrist braces and hand splints can severely complicate recovery from Carpal Tunnel Syndrome.
The Carpal Solution has been shown to enhance blood circulation to the hand. Dr. Morgan suggests that increased nutrient and oxygen rich blood circulation reinvigorates the hand naturally and helps contribute to rapid recovery through metabolic processes at the cellular level.
There is hope – The Carpal Solution can fix Carpal Tunnel Syndrome without surgery
The Carpal Solution is specially designed from hypoallergenic materials to have an elasticity which matches the same basic elasticity found in one's skin, muscles and connective fascia tissue of the hand, allowing it to work in harmony with the body's natural ability to stretch and relieve unwanted pressure and allow improved blood circulation in and around the Carpal Tunnel and the Median Nerve. The Carpal Solution decompresses the hand and relieves hand numbness and wrist pain quickly and naturally without complications.
People suffering with CTS often feel like they are suffering in silence, because they usually do not look any different and there are no noticeable signs of impact or injury. However, a person after months of Carpal Tunnel Pain and Numbness coupled with restless nights and sleep deprivation and lost earnings can become desperate and feel ultimate despair and entrapment. But, there is hope – The Carpal Solution can fix Carpal Tunnel Syndrome without surgery and get you feeling back to normal within just a few weeks.
It is amazing how much better the world looks when the intense pain and numbness is relieve and you get a sound nights sleep. All of a sudden you can face the world again with optimism and hope.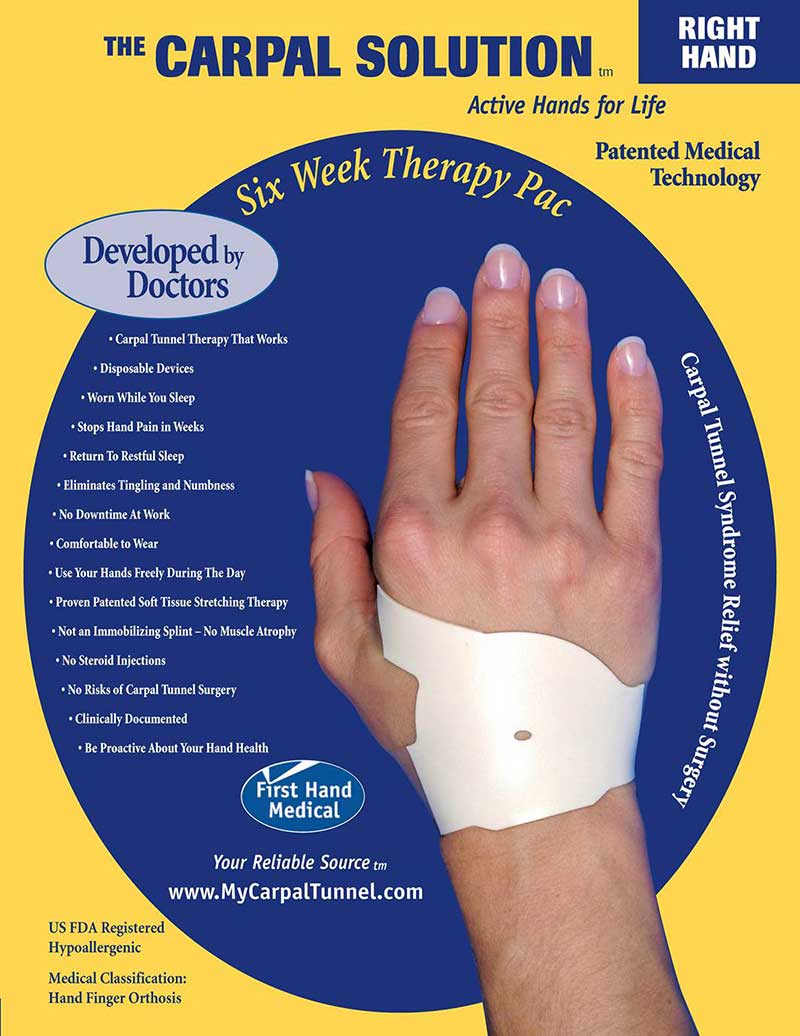 One person after being relieved from their Carpal Tunnel prison said,
"I feel like an enormous weight has been lifted from my life. I feel empowered and able to do the things I need and love to do without limitations. It is such an exhilarating feeling to be free of the nagging symptoms of Carpal Tunnel without the costs, downtime and risks of surgery.
I have so many friends and colleagues who have tried surgery or steroid injections with bad results, I was afraid to go that direction. Now with the Carpal Solution I can do whatever I want to do with confidence knowing that if my symptoms return, I can quickly bring them under control without any hassles or worries. It is a great feeling to have an all natural solution to CTS."
The Carpal Solution has been used by over 81,000 people in over 30 countries and continues to get a 97% success rate among patients.
Want to know more? Read additional articles written by Doctors on hand pain and Carpal Tunnel Syndrome.
Call Toll Free:
1-800-798-5210

to speak to a knowledgeable representative now.