Severe Carpal Tunnel Pain Cured Without Surgery
Natural Treatment Works, Even on the Most Severe Carpal Tunnel Symptoms
Eight years ago, I was diagnosed with Severe Carpal Tunnel Syndrome by a Neurologist. The aching carpal tunnel pain and hand numbness at night was waking me up several times each night. It was torturous and definitely severe. I already knew I had Severe Carpal Tunnel Pain. I was in tears every night and at my wits' end.
I am a busy mother with eight children and lots of hobbies I do for my family like: crafts, knitting, quilting and cooking awesome meals and goodies. I get so much meaning from all the things I do for the people I love. It is who I am. It was like this severe carpal tunnel pain was taking away my identity. I was grumpy and irritable and that is not me.
The Neurologist suggested carpal tunnel surgery and said I would get nerve damage if I did not have surgery immediately.
The trouble is, I didn't want Carpal Tunnel Surgery. I don't like invasive procedures and know a lot about what can go wrong from what I have heard from friends, relatives and neighbors.
I know doctors can be great to have around when in crisis, but there are so many risks with invasive medical treatments, I just want to stay away from them, if I can.
I started doing some research. When I learned that Surgery can make the Carpal Tunnel Symptoms worse for 5 – 8% of people and it has a relative low success rate of around 60%. The severe carpal tunnel diagnosis worried me, but I knew I had to find another way, and soon.
As a busy mother, I could not afford the downtime and rehab time and I certainly could not even think about the prospect of surgery making my severe carpal tunnel pain even worse.
I wanted to find a home remedy for Severe Carpal Tunnel Syndrome, but was skeptical about finding a natural treatment for a severe case of carpal tunnel.
With hope and cautious optimism, I began my search. I saw a lot of different treatment options. Most of the treatments were kind of "quacky", suspect or lacked any kind of clinical studies or credible patient reviews or scientific basis – there were no doctors behind them and no guarantees.
Then, I found this natural stretching treatment kit developed by Doctors that claimed it worked even for "Severe Carpal Tunnel Symptoms". I was skeptical, but found myself wanting to try out the "Risk-Free Trial".
I did more research, the Doctors backing this had had distinguished careers at top medical institutions. That gave me more confidence. The information was medically sound, but written in a laymen's language that is easy to understand. I found myself gaining confidence. The user reviews were the final factor that made me pull the trigger. "That many sincere people from all over the world, can't be wrong" I thought.
So, with the money back guarantee, I followed my instincts and took the plunge and ordered the Carpal Solution Home Treatment Kit.
The First Night of Treatment with The Carpal Solution Home Stretching Kit.
The Carpal Tunnel Home Treatment Kit arrived quickly, I liked that – and I started using it.
The first night I was up most of the night and my Severe Carpal Tunnel Pain was almost twice as bad. I called up the company and said,
"This is making my Severe Carpal Tunnel Symptoms even worse. I hardly slept last night." The company representatives were very professional and explained:
"That sometimes for about 3% of patients Carpal Tunnel Gets Worse before it gets better. The doctors call this 'Soft Tissue Transition'. It means the Carpal Solution is working.
Sometimes when you start stretching injured tissue it creates more inflammation, which puts more pressure on the nerve until the body has time to clear out and disperse the inflammation."
First Hand Medical representatives said, "You could expect this transition to last for anywhere from a couple of days up to 10 days, but then you will get completely better and put Carpal Tunnel into remission for years with this natural treatment and avoid surgery."
The explanation made sense, they also sent me some additional instructions to help mitigate any pain that I might feel. My gut told me to go forward with this and it would all be worth it when my severe carpal tunnel was gone.
The next night I braced myself for a difficult night, but it was not as bad as before I started the treatment kit. "Could it be," I thought, "that, I am getting better."
I dismissed that thought quickly, saying it was wishful thinking.
Then the 3rd night of treatment I slept through the night for the first time in months. I couldn't believe it. I thought, "This must really be working." But I was still skeptical.
I kept sleeping through the night and all of my symptoms were significantly better after a week.
Day 14 Elation: I Realized I Had Found the Natural Cure For Severe Carpal Tunnel.
After two weeks, I knew I had found the treatment for severe carpal tunnel pain that I was looking for. I was at least 50% better at that point.
I was so relieved. I felt like celebrating. Remember, the "original diagnosis of severe carpal tunnel." Could it be that I have found my deliverance from this torturous journey of severe carpal tunnel pain? Yes!
Oh, and about the "permanent nerve damage" warning, I have since learned that it is rare and not something that most people should be worried about, even with Severe Carpal Tunnel. It is the chronic sleep loss, that is really dangerous to one's health from Carpal Tunnel. Just saying this for the record. I imagine a lot of people are told they will get "permanent nerve damage" if they don't rush into surgery. If you are told you will have nerve damage, don't worry about that, it is extremely rare with carpal tunnel.
Day 42 Completely Cured of Severe Carpal Tunnel.
After finishing the 6-Week Kit, I was completely better. That's right – no more severe carpal tunnel pain – no more sleepless nights – no more tear stained pillows – no more worries about "permanent nerve damage".
I was cured of severe carpal tunnel syndrome. When I think of the original diagnosis and the desperation I felt – to find a natural carpal tunnel treatment that works for severe carpal tunnel pain, I am still somewhat in disbelief that it all work out so well.
Message of Hope for those suffering with Severe Carpal Tunnel Pain. This Ordeal can have a happy ending!
So, my message is what I hope will be taken as:
A message of hope and inspiration to others that might be suffering with this dreadful condition. Don't give up and don't get depressed. This carpal tunnel ordeal can have a happy ending. There is no reason for despair or discouragement. Act with Faith!
It is remarkable how faith can overcome tragedy across all aspects of life.
Day 2,920 = 8 Years and Counting: Severe Carpal Tunnel Symptom Free!
It has now been eight years since I did the first round of the Carpal Solution Home Treatment Kit. I have had no reoccurring symptoms. It is nothing short of a miracle from my perspective. If I had not had the faith to move forward with this natural stretching treatment, I shutter to think where I would have ended up.
It is just like the folks at First Hand Medical said. "Once you get Carpal Tunnel under control it can go away for up to 12 years with no reoccurring symptoms." I am so impressed with this kind of performance from a simple home medical product.
I am now 61 years old and of all the products I have purchased in my life time, The Carpal Solution ranks at the top of the list. That's right, the Carpal Solution Treatment Kit is the best product that I have ever purchased.
Gratitude for Severe Carpal Tunnel Relief and Cure
I am so grateful to First Hand Medical and the Doctors that developed the Carpal Solution Kit and for the advice and encouragement they gave me to keep going when my severe symptoms got even worse. I am so glad I kept going with the treatment and did not give up even when the symptoms started out getting worse.
I could not have done this journey without you. Thank you so much.
Severe Carpal Tunnel Pain Relief can be achieved without surgery. In fact, Severe Carpal Tunnel can be cured with natural treatment for up to eight years and counting in my case. Do not doubt. There is the remedy for severe carpal tunnel pain. I am walking proof of that.
I feel obligated to share my experience in hope that it will help other people, like me, who are so desperate to cure carpal tunnel with a natural treatment and avoid the risks and downtime of carpal tunnel surgery.
It is so cool to find a natural treatment that unblocks the body's natural healing process and allows it to cure itself naturally. I am back doing the things I love with my family and it is so great not to worry at all about Carpal Tunnel Pain.
If you are suffering with carpal tunnel pain, or even severe carpal tunnel symptoms like I had, you should try the Carpal Solution Treatment Program first before you try anything else.
The Carpal Solution Kit is the best place to start and avoid the anguish, worry, desperation, pain and unhappiness that this syndrome can cause. There is no reason to suffer mentally or physically with Carpal Tunnel. The Solution is so easy.
The Carpal Solution Carpal Tunnel Treatment Kit Works! End of Discussion.
Maryellen B.
Mother of Eight, Grandmother of 19 with another baby on the way which will make 20. Charlotte, North Carolina
Sometimes People with Severe Carpal Tunnel Symptoms Think the Only Possible Solution is Carpal Tunnel Surgery
It is only natural to think that the only answer to severe carpal tunnel pain is Carpal Tunnel Surgery. However, the truth is that most people, even those diagnosed with severe carpal tunnel syndrome can heal themselves naturally when they employ a validated natural treatment program developed by Doctors utilizing patented medical technology, that is clinically documented, FDA Registered and Reimbursed by Health Insurance. The Carpal Solution Home Treatment Kit carries over 200 reviews on independent review sites with a consistent 4.8 star ranking or higher – Real Reviews by Real People like Maryellen B. from Charlotte.
Surgery is not Necessarily The Answer for Severe Carpal Tunnel Pain or Any Kind of Carpal Tunnel Syndrome.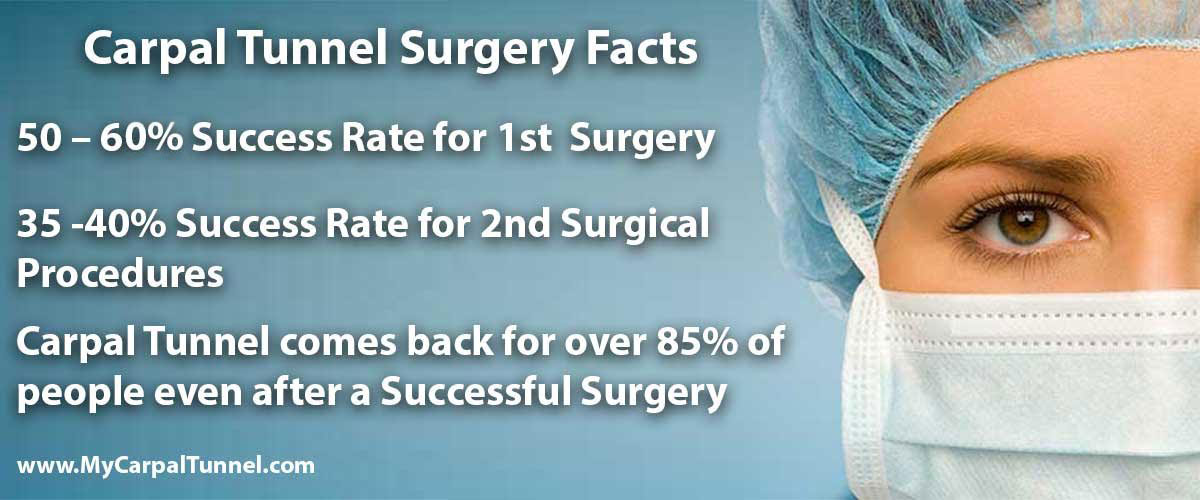 Answer:
Carpal Tunnel Surgery always causes scar tissue. That is why the success rate drops so much with the second surgical procedures.
There is a better treatment option.  According to Neurologists:
"The Carpal Solution Home Stretching Kit is the best first line of treatment for Carpal Tunnel Syndrome."
Patient Reviews Say: "It is My Carpal Tunnel Cure!"
Why is The Carpal Solution Home Treatment Kit a better Way to Treat Carpal Tunnel?
It Works for 97% of Patients
It Works Fast
Most Patients Relieve Their Worst Symptoms in 1 to 3 weeks.
Complete Remission in 6 weeks.
CTS Stays in Remission for many years.
It is convenient – You wear it during sleep.
It is Safe and Jump-Starts Natural Healing
No Complications, No Scar Tissue Formation
No Downtime, No Long Rehabilitation
No Cartilage Loss as with Steroid Injections
No Muscle Atrophy as with Splints
Minimal Costs – 30 Day Guarantee
Clinically Documented, FDA Registered,
Reimbursed by Health Insurance
Rated 4.8 our of 5 Stars by Patient Reviews
You can get relief of severe carpal tunnel pain in weeks with this proven home treatment program developed by Doctors. It is the best place to start treating Carpal Tunnel Syndrome.
How Does The Carpal Solution Home Carpal Tunnel Treatment Kit Work?
Your body heals itself during sleep
Provides 220 hours of gentle consistent palm stretching over 6 weeks
Restores Full Blood Circulation – Restores Flexibility to Injured Soft Tissue – Disperses Inflammation
Unblocks Natural Healing Pathways – Jump-Starts Natural Body's Natural Healing Processes
Once the trapped inflammation is dispersed and the Injured Soft Tissue is flexible again, the pressure on the Median Nerve is relieved and Carpal Tunnel Symptoms go into complete remission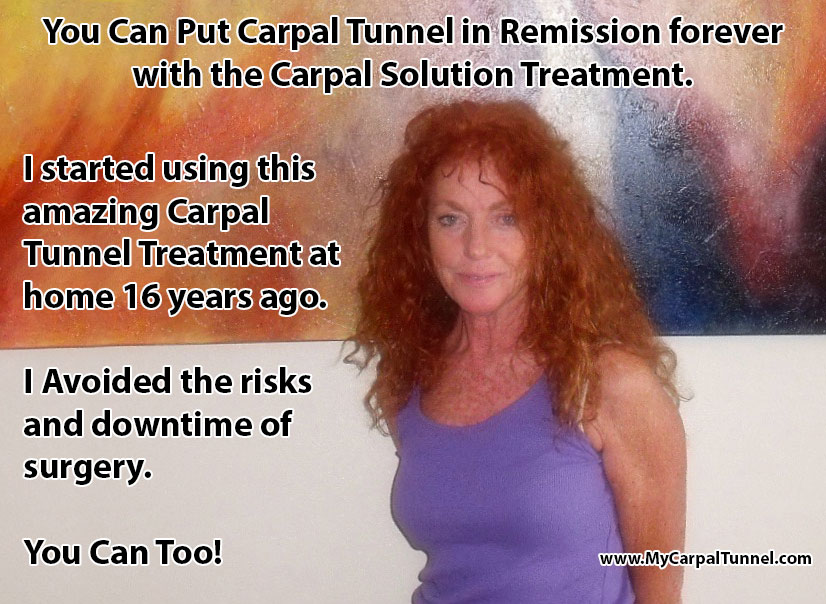 When Can I expect Relief?
Most people get rid of their worst symptoms in 3 weeks and complete remission of this chronic cyclical syndrome in 6 weeks. Once your body's natural healing is restored, Carpal Tunnel Syndrome goes away for up to 12 years for some. Most people find it comes back in 5 to 8 years depending on many factors including your anatomy, and the underlying contributing factors that might be causing your carpal tunnel syndrome.
If you don't get rid of your worst symptoms in 30 days, send the Carpal Solution back for a full money back guarantee excluding shipping costs.
If you start feeling better, you can take confidence that you will get your symptoms completely better using this natural stretching treatment, even if you have severe carpal tunnel symptoms. This is a remedy for severe carpal tunnel and any type of carpal tunnel symptoms. Don't be rushed into a risky surgical procedure unnecessarily. It is unconscionable to perform surgery on someone before they have tried a proven natural treatment that works for 97% of patients with severe carpal tunnel and any type of carpal tunnel.
Just like Maryellen said,
"Keep Hope, avoid despair and Act with faith and try the Carpal Solution Home Treatment Kit. You can get through this Carpal Tunnel Ordeal, even if you have severe carpal tunnel pain."
Is The Carpal Solution a Permanent Fix for Severe Carpal Tunnel Symptoms?
There is no "Permanent Fix for Carpal Tunnel Syndrome". Carpal Tunnel comes back even after Carpal Tunnel Surgery. It is after all, a chronic cyclical condition that comes back. However, while there is no "Permanent Fix" there is a "Permanent Solution to Carpal Tunnel Syndrome". Whenever it reoccurs, you simple repeat the Carpal Solution Kit and you can stay carpal tunnel symptom free forever. What a great concept!
Even when Carpal Tunnel comes back, whenever that is, you can put it back in remission with the Carpal Solution Home Treatment Kit. Even if it comes back after a surgical procedure you can use the Carpal Solution to put it back into remission in most cases. Even if it comes back with severe carpal tunnel pain, you can put it back into remission with the Carpal Solution Home Treatment Kit.
Watch Video Reviews from Real People by Clicking on the photos below: