Can Carpal Tunnel Be Cured Naturally?
"My Doctor recommended surgery for Carpal Tunnel, but I am wondering, Can Carpal Tunnel be cured naturally? I don't want to risk having my hands cut on."
Emilia
Internet Marketing Manager
London, England, UK
Great question Emilia, the simple answer is yes there is a natural cure for Carpal Tunnel Syndrome. Cure is an interesting word, for many people it means healed, for others it means a permanent fix for a condition.
The reality with Carpal Tunnel Syndrome is that it comes back even after a successful surgery for 85% of people within 6 months to 8 years.
So, the key with reoccurring syndromes like Carpal Tunnel is to identify a natural treatment that is effective for most people and does not involve the risks of repeated surgical procedures.
Your instincts with surgery are correct. There are a lot of risks and potential complications (You can learn more about the risks on our Carpal Tunnel Surgery Directory. However, the biggest risk is that of repeat surgeries even when everything goes well with a first surgery.
1st time Carpal Tunnel Surgical procedures have a 50 to 60% success rate.
For 2nd surgical procedures for Carpal Tunnel the success rate goes down to only 35 – 40% due to formation of scar tissue in the first procedure.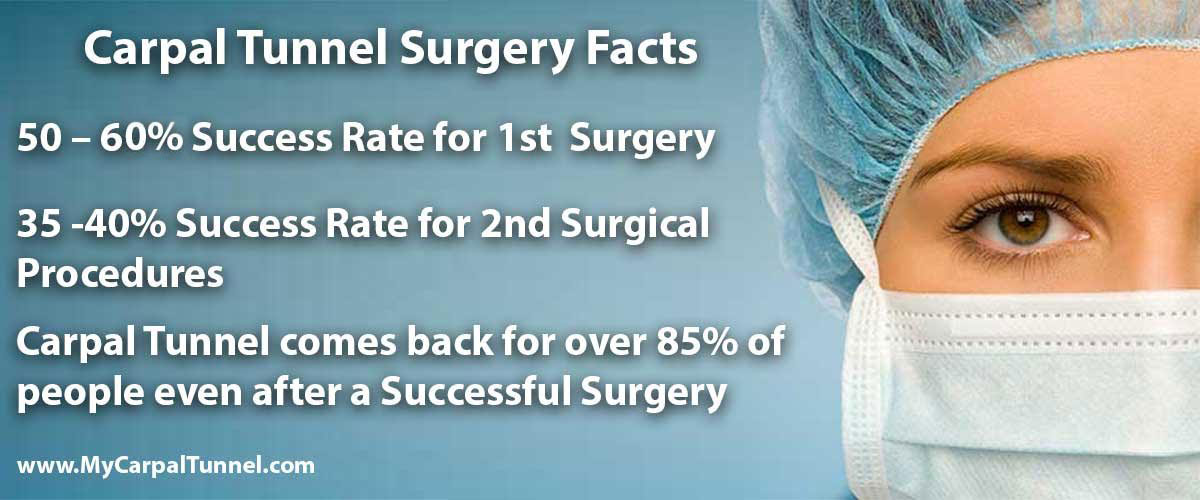 So, what is the best way to treat Carpal Tunnel Naturally?
It is a night time stretching regimen known as the Carpal Solution Treatment.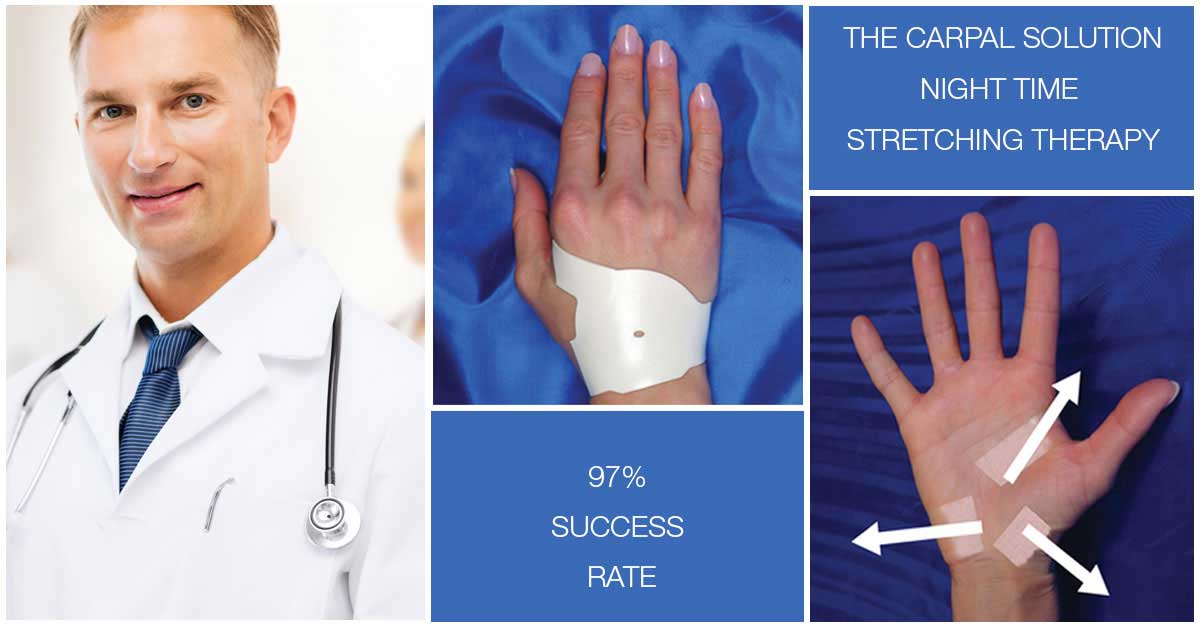 The Carpal Solution provides 224 hours of gentle targeted stretching around the Carpal Tunnel on the palm of the hand. This treatment regimen was developed by Doctors working with patients and it works for 97% of people with Carpal Tunnel Syndrome. You simply put on these simple stretch taping devices before retiring to bed and take them off in the morning. You wear one every night for two weeks and then every other night for four weeks. Most people get relief of their worst symptoms in 2 – 4 weeks and complete remission within 6 weeks.
After following the Carpal Solution Six Week Protocol, CTS goes away for 2 – 7 years for the majority of people.
When it comes back you simply repeat this night time stretching regimen again.
With the Carpal Solution there is No downtime, No Risks and No Complications.
Some people ask, "but how does it work?"
It takes six weeks to heal most soft tissue injuries. Carpal Tunnel is a cyclical condition where the injured tissue actually blocks and prevents healing.
The problem with Carpal Tunnel is the pressure that is pinching the nerve also restricts blood flow which prevents natural healing. This pressure is caused by two factors:
1- The Loss of flexibility of the soft tissue results in contraction of the tissue pinching the nerve and restricting blood flow.
2- The Build up of lymphatic fluid or inflammation because of restricted circulation.
This natural treatment restores flexibility to the injured soft tissue, it also restores blood circulation, where it had previously been blocked, and triggers your body's natural healing processes. Inflammation is dispersed and the soft tissue starts to heal. Once healed it becomes flexible again and no longer pinches the nerve.
So, there is a natural cure for Carpal Tunnel Syndrome. You can treat yourself in the comfort of home with no downtime and no risks. The Carpal Solution is convenient and simple to use and has been used successfully by over 70,000 people.
There is a Natural Treatment for Carpal Tunnel Syndrome, developed by Doctors, for use at home. It works for 97%!
We ship worldwide from five warehouses.
We have warehouse locations in:
• Amsterdam, Netherlands
• Boston, MA , USA
• Salt Lake City, UT, USA
• Sao Paulo, Brazil
• Tokyo Japan
• DHL Worldwide Courier Service to Other Locations.
You can order online securely and rest assured that we can deliver to over 224 countries in the world within a Week.
Want to know more? Read additional articles written by Doctors on hand pain and Carpal Tunnel Syndrome.
Call Toll Free:
1-800-798-5210

to speak to a knowledgeable representative now.